The idea of third party Steam Deck cases is something that interests me because, as anyone who owns a Steam Deck knows, Valve includes a VERY GOOD protective case with every device already. Most tech devices don't include any type of case, so if you want to provide that device some protection you have to pick up your own. With popular devices like smartphones and tablets there's a nearly unlimited number of options to choose from, in practically any price point you're comfortable with. With the Steam Deck already coming with its own VERY GOOD case there really needs to be a compelling reason to shell out extra for an alternative case. People do have different tastes though, and choice is always a good thing, and to be honest there are some things that bother me about Valve's default Steam Deck case that had me considering looking into an alternative.
To celebrate the one year anniversary of the Steam Deck, San Francisco-based WaterField Designs released a new lineup of magnetic gaming cases for the Steam Deck as well as the Nintendo Switch, Analogue Pocket, and Playdate. We have long been fans of WaterField gear around TouchArcade Towers, and several years back we even reviewed their entire lineup of Nintendo Switch cases at the time. Their stuff is pricey but the quality is second to absolutely no one, and so the announcement of their new Steam Deck Magnetic Case was the perfect nudge I needed to finally try out something different after spending the past year with Valve's included Steam Deck case. WaterField was generous enough to send me one for review and so here are my thoughts about it as compared to the original Valve case.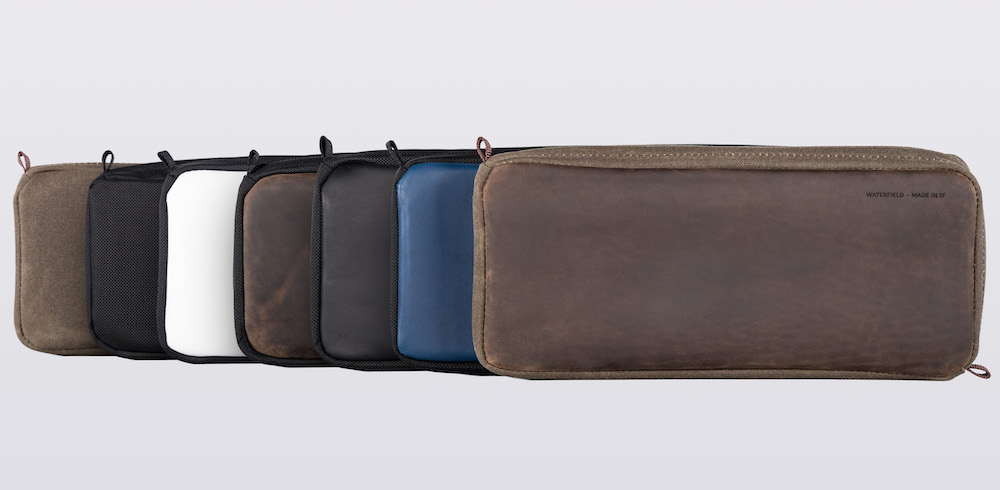 First off let me talk about the fit and finish of the WaterField case. This company is legendary when it comes to quality, and that hasn't suddenly changed with their new Steam Deck case. The main front and back panels are full-grain leather, Chocolate leather on my model but also available in Black, Blue, and White leather options. Holding those panels together and creating the shape of the case is black ballistic nylon tops and sides. There is an additional option for Chocolate leather panels with waxed canvas exterior sides, and this is the mixture of materials that is kind of the "signature look" of WaterField's stuff. Finally, for those who don't really dig leather, there are options for entirely ballistic nylon or entirely waxed canvas cases, which are also a few bucks cheaper.
The interior of the case is a very soft plush lining with a bit of foam in between it and the exterior leather panels. All of the interior sewing is reinforced with thick piping (there's that legendary quality I was talking about) which, in addition to giving it an extra beefy construction, adds a bit of padding to the exterior edges of the case. This is by no means a super shock-absorbing case, and while it may help protect your Deck from a drop compared to the device being naked I wouldn't go counting on it or anything. The Valve case does feel like it would protect the Deck from a drop, and in fact that case almost feels bomb-proof, but it's also about twice the thickness of the Waterfield case which is probably my main gripe with it. For how svelte the WaterField case is it does seem to offer good protection against the general wear and tear of toting your device around in it or packing it away in a larger bag. The interior also includes two pockets, one larger one along the backside that will fit the Deck's charger and a slimmer pocket on the front side that would be perfect for SD cards or a polishing cloth.
The biggest standout feature of the Steam Deck Magnetic Gaming Case is of course its magnetic closure. I mean it's right there in the name, you know? I have to say I was skeptical about how well a magnetic closure could keep my very expensive device safely enveloped in its case, but having tried it for myself I'm now a believer. The magnetism is strong, but not too strong to pull open with ease, and the way the two sides snap shut is incredibly satisfying. It's fun in a way I didn't think a zipper ever could be, which is not something I ever thought I'd be saying about opening and closing a gaming case. Its other main benefit is it allows you to charge the Steam Deck while it's in the case since the magnetic edges allow the charging cable to stick through while still closing the two sides together.
The magnetic zipper only extends along the top and side of the case, which brings me to my first negative point about this product after heaping so much praise on it. I prefer a case that can fully open flat, as I use my Steam Deck around the house and keep it in its case unless it's actually being used in my hands. If I get up and want to set the device down I like to have that open case there to rest it on, and maybe even just close the flap over without actually fully closing the case just in case, I don't know, an errant toddler's toy goes flying or something. With the WaterField case only opening on two sides it acts more as a sleeve, and while it's by no means difficult to slip the Steam Deck in and out of, it's still not something I'd do just to set my device down for a few moments. It's not the case's fault as this is how it was designed, but my personal preference is a case that can open on 3 sides.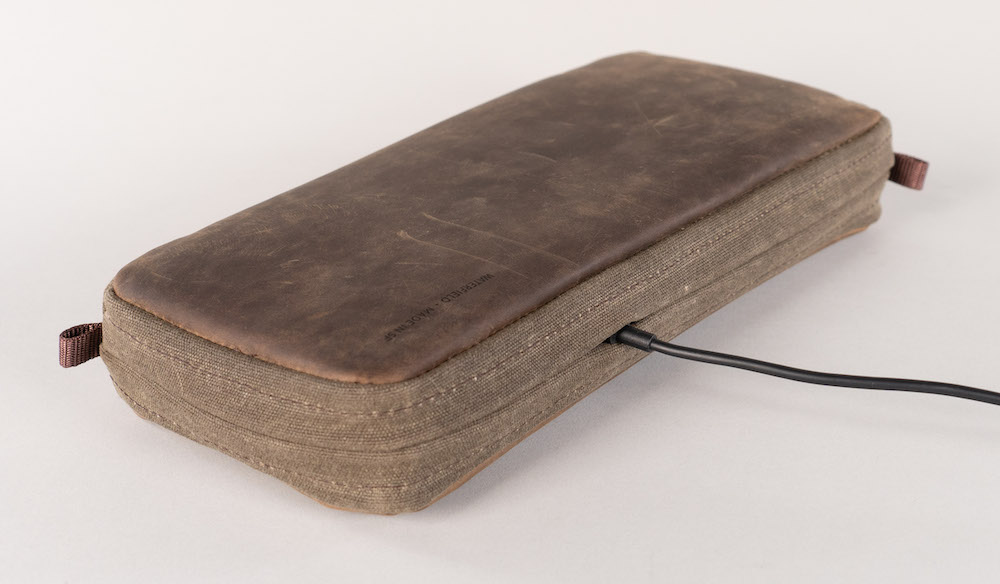 That brings me to my second criticism. As mentioned the WaterField case is roughly half as thick as Valve's case, and that also means it's a tighter fit all around. The outside leather panels are reasonably stiff but aren't a molded semi-hard shell like Valve's and other manufacturer's cases, so there's a bit more give in the WaterField case. This isn't really a huge deal but you will notice that the analog sticks can be clicked in from pushing on the outside of the case, and that just makes me feel… uncomfortable, I guess. Now, my Nintendo Switch Slim Case does exactly the same thing, and that thing has been all over the world with me and never damaged my device. In fact I bought that case alongside my launch day Switch and still use it to this day with my OLED Switch some 6 years later. I've never even had stick drift on either of my Switches!
In reality analog sticks are spec'd to be pressed in tens of thousands of times if not more, so I don't think it's actually putting my device in danger or anything, but I still would prefer if there was some form of molded piece on the inside front panel with recessed areas for those sticks to sit in. Also worth mentioning is that once I noticed this issue after putting my Deck in the Waterfield case, I got curious and grabbed my Valve case that does have the nice molded interior that perfectly fits the device, and lo and behold if you squeeze that case together you can also make the analog sticks click in. I think that unless you're willing to rock a fully hard case made of plastic or metal this is going to be an issue.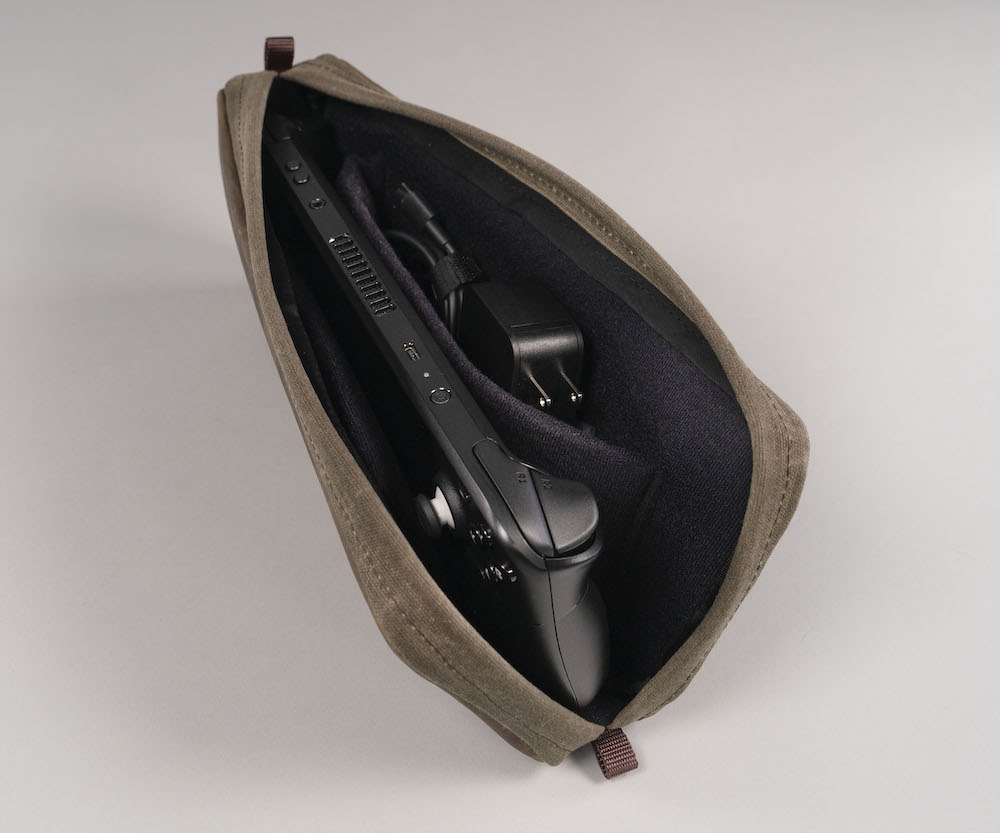 Overall I still love the WaterField Steam Deck Magnetic Gaming Case despite those two issues I mentioned. The quality and style of this thing is unmatched, the magnetic closure is fun and functional, and the size is much more manageable than Valve's beast of a case. However, I think the real question is if this will replace the Valve case for me, and the answer to that is complicated. If I'm just tossing my Deck in a lightly packed backpack to head over to a buddy's house, then yeah WaterField all the way. If I'm traveling heavier and want to stick my Deck in a more tightly packed suitcase or something, especially if the extra space the larger case takes up isn't such an issue, then I'd probably opt for the Valve case. It is in fact a sturdier case, as evidenced by its gigantic size.
That said, I don't really take my Deck outside of the house all that often, and don't really go on any big "need to pack a suitcase" trips, so that scenario isn't super likely. The bigger question is how I use my Steam Deck day to day around the house, and for me the WaterField case is just what I was looking for. Is that worth $84-89 when every Steam Deck already comes with a great case? That'll likely come down to you. While my review unit was provided for free, I likely was going to buy one of these anyway, and had I dropped the cash for one I can say now after having used it that I wouldn't regret the decision. If this does sound like something up your alley you can order a Steam Deck Magnetic Gaming Case–or the versions for Switch/Switch Lite, Analogue Pocket, and Playdate–over on the WaterField Designs website.